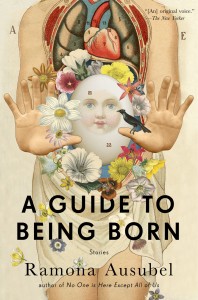 Reminiscent of Aimee Bender and Karen Russell—this enthralling new collection uses the world of the imagination to explore the heart of the human condition. Named one of the New York Times' 100 Notable Books of 2013 and one of the Best Books of the Year by the San Francisco Chronicle.
Combines the otherworldly wisdom of Ausubel's much-loved debut novel, No One Is Here Except All of Us, with the precision of the short-story form.  and long-listed for the Frank O'Connor International Story Prize,  A Guide to Being Born is organized around the stages of life—love, conception, gestation, birth—and the transformations that happen as people experience deeply altering life events, falling in love, becoming parents, looking toward the end of life. In each of these eleven stories Ausubel's stunning imagination and humor are moving, entertaining, and provocative, leading readers to see the familiar world in a new way.
In "Atria" a pregnant teenager believes she will give birth to any number of strange animals rather than a human baby; in "Catch and Release" a girl discovers the ghost of a Civil War hero living in the woods behind her house; and in "Tributaries" people grow a new arm each time they fall in love. Funny, surprising, and delightfully strange—all the stories have a strong emotional core; Ausubel's primary concern is always love, in all its manifestations.
Press
&

Reviews:
"Each story in this collection finds a way to record the tensions between the corporeal and the invisible, the forces that animate us but ultimately can't be dissected, our anti-anatomies. The dismay of coming to the final page is easily combated by following the example of Ausubel's characters and beginning all over again." —The New York Times

"…makes you feel as if you have emerged from a concert of atonal music, every object in the world momentarily transformed by Ausubel's gloriously eccentric vision."—The Boston Globe

"Ausubel plumbs the constant mysteries of life, death, falling in love — all these impenetrable things we human beings quest for — and honors them with the magic they deserve." —NPR

"Beautiful."—The Atlantic

"A writer whose work is both aggressively nontraditional and universally appealing…above all, Ausubel captures that eyeless beauty in the world — the part that goes on without us inventing or destroying or noticing."—Barnes & Noble

"Fans of George Saunders will find a lot to enjoy in Ausubel's writing, as will readers of Junot Díaz and Argentine fabulist Julio Cortázar."—The Huffington Post

"These stories reminded me of branches full of cherry blossoms: fresh, delicate, beautiful, expressive, otherworldly.  I eagerly read from one story to the next."—Aimee Bender

"Lyrical stories arranged around themes of birth, gestation, conception and love. . . . Ausubel has a gift of language so rich that even the most mundane events are invested with poetry, and many of her characters are in need of all the poetry they can muster."—Kirkus

"Ausubel is a master stylist of vibrant, concise prose, and these stories, with love most often at their cores, can be appreciated for that alone."—Booklist

"What's perhaps most impressive here is how Ausubel is able to connect the stories, despite the distinct and discrete strangeness of each, into a satisfying and cohesive arc, describing a cycle of life from pre-birth and gestation to death and ghostliness." —The Daily Beast

"A charming collection of stories that tackles the frustrations and fantasies of being alive." —Publisher's Weekly

"Luminous." —Flavorwire